Korner Floor
We are pleased to present a new product in our offer, KORNER FLOOR flooring. Thanks to the use of the latest achievements in the field of plastics processing, we have obtained a product that combines the most important advantages of floor coverings available on the market. Korner Floor combines the extraordinary functionality and resistance of the materials used and the beauty of classic wooden floors. We can offer you tomorrow's floor today. Please see our offer for more details.
What is Korner Floor SPC?
SPC Stone Plastic Composite – is a technologically advanced material used to produce floors with heartwood. Its uniqueness is based on the advantages of existing solutions in the world of floors and the desire to adapt to the ever-increasing requirements of Customers. Selection of the right ingredients allowed to optimize the functional properties and made it possible to create a versatile product, free from the disadvantages of classic floor coverings. SPC Korner Floor floors give a broad view of the use of floor panels, from rooms with very high humidity, through rooms for everyday use, to commercial and office spaces.

Interiors design SPC Korner Floor
Dedicated skirting boards
Dedicated floor underlay
LVT GRIP PROTECTOR
Basic floor protection

Waterproof

Thickness 1,5 mm

Non-slip layer

For underfloor heating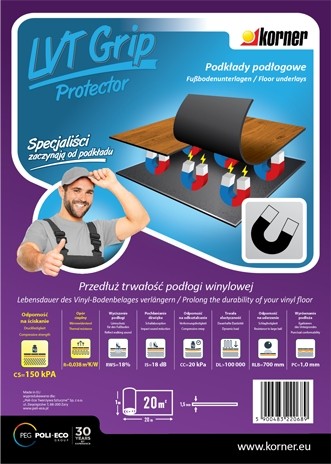 LVT PROTECTOR
Basic floor protection
Waterproof
Thickness 1,5 mm
For underfloor heating
LVT PREMIUM
Basic floor protection

Waterproof

Special adhesive layer

Very high density

Thickness 1,5 mm

For underfloor heating
Logistics and technical data
Advantages over other materials
100% water resistance

superior resistance to impacts and damage

stable dimension regardless of temperature

eco-friendly, degradable

easy and quick installation

sound absorption

adapted for underfloor heating

the wood structure with the appearance of natural materials

wide range of applications

resistance to micro-scratch and abrasion

complete offer: floor + skirting board + underlay